Finally, a plug-in for Canadian Squarespace real estate websites
Integrate the Data Distribution Facility with your Squarespace website
With Agent iFrame® Map Search, you can create, integrate, and show listings on your Squarespace website with just a few clicks. This page will show you how to add the listings code to your Squarespace website so you can . . .
Show listings from any board in your province
Reuse mapped listings on any website for Listings Anywhere™
Use DeepLink™ dedicated URLs for advertising on social media or in email
Generate leads by using pre-set search results on landing pages
Includes an SMS contact form that you can use anywhere
Visit the demo site for more information and some ideas on how to use Agent iFrame®
To add IDX to a Squarespace website you will need an active Agent iFrame Map Search account, a data filter set-up at realtorlink.ca, and an active Squarespace account.
How to add Agent iFrame® to a Squarespace real estate website
Agent iFrame® is designed to be easy to use and look great on any website. For best presentation, your Squarespace website should have a page width or Content Box width greater than 1100px.
Use the Squarespace Code Content Block on your pages when you want to Agent iFrame® listings.
Bbring up the Content Blocks menu by hovering and clicking a gray insertion point where you want to insert the code block.
From the Content Blocks menu, you can select Code
Copy the Agent iFrame® code from the email you received after placing your order.
Paste the code into the the Code Content Block.
Save the page.
The DDF mapped listings will show automatically when you view the page as the public sees it. You may not see the correct layout if you are viewing in 'draft' or 'preview' mode.
Experiment with the height of the iframe in the settings within the code. The default of 700px works well for almost all screen resolutions.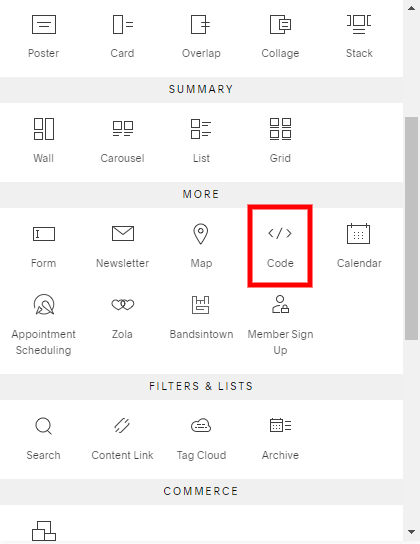 Squarespace Data Distribution Facility
Canada's leading DDF plugin for Squarespace works with any theme to provide a high quality user experience with lead generation capabilities.